Experian, a global leader in credit reporting and marketing, just released a Q4 report of automotive trends and vehicles in operation (VIO) for the US market in 2019. The report shows growth in total US VIO and rising demand in aftermarket parts, including quality automotive batteries, which you will find at Northeast Battery, a premium supplier of reliable aftermarket components. Here's what the 2019 report shows about trends in VIO for 2019 and the growing demand for aftermarket automotive batteries.
What the 2019 Q4 Report Shows
In 2019 Q4, the number of Vehicles in Operation (VIO) was 279.6M, which is an increase from the total of 275.3M throughout the year in 2019.
Within the overall VIO category:
• 16.8M new vehicles were registered
• 12.5M vehicles were no longer in operation
• 42.3M used vehicles changed ownership
Full-sized pickup trucks were the most popular, according to Experian's statistics:
• 15.8% of the VIO category was comprised of full-sized pickup trucks
• 10% of the VIO category was comprised of mid-range standard vehicles
• 2.12% of the VIO category included hybrid vehicles of assorted body styles
The VIO category also breaks down into market share based on leading manufacturer:
• 22% (GM)
• 16.9% (Ford)
• 14.1% (Toyota)
Among new registrations in Q4 2019, Ford takes the lead for new and used vehicles. Toyota leads new registrations in 2019.
Among electric vehicles, Experian reports the following in Q4 2019:
• Electric vehicles comprised 0.28% of the total VIO sector nationwide
• Tesla leads the market, comprising 62.6% of the total sector
• The Model 3 and Model 5 from Tesla were the most prevalent electric vehicles
The "Sweet Spot"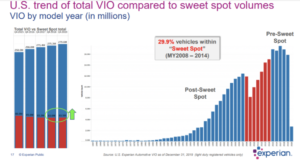 The Q4 report also shows an increased demand for aftermarket parts among vehicles on the road. This is described as the "Sweet Spot," which identifies vehicles that are more likely to need aftermarket parts. In 2019, approximately 83.5M vehicles were considered to be in the prime Sweet Spot category. This is great news for our customers.
This ideal Sweet Spot category includes vehicles within the 6-12 year age range. These vehicles are no longer eligible for OEM manufacturer warranties and repairs based on their age. Vehicles in this age range are also more likely to need replacement parts and more extensive maintenance services such as timing belt repairs, engine repairs and replacements, and updated shocks. Finally, vehicles in the prime sweet spot range are also most likely to be taken to independent service shops for repairs, and they will be repaired using aftermarket components.
Other vehicles are referred to as "Pre Sweet Spot" and "Post Sweet Spot." Pre Sweet Spot vehicles are five years old at most. Many are still covered by a warranty. Vehicles nearing the five-year age mark are considered to be nearing prime Sweet Spot category. In turn, they'll soon raise the demand for aftermarket batteries. Post Sweet Spot vehicles are 13 years or older. They have a lower value, and their owners may spend less money on servicing them. Although these vehicles won't raise the number of Sweet Spot vehicles on the road, they may still be prime candidates for quality aftermarket batteries.
Overall, the category of Aftermarket Sweet Spot grew in 2019. The category is expected to increase by an additional 3.5% in 2020. This means we can all expect to be selling more aftermarket batteries in the future as more vehicles enter the sweet spot pipeline.
About Northeast Battery
Whether you drive a vehicle that's in the Aftermarket Sweet Spot category, is nearing prime Sweet Spot age, or your car is older but still needs replacement components, Northeast Battery can help. Northeast Battery is proud to be a reliable and credible source of aftermarket batteries to keep your car performing in top shape.