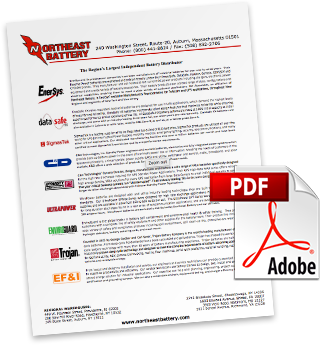 Line Card Downloads
Find out more about our preferred partners like Trojan, Odyssey and Fullriver.
Did you know NEB also specializes in SLA batteries? Here you can learn more about our preferred SLA battery partners like Enersys, C&D and DataSafe.
Our comprehensive products include a full range of Starting, Lighting and Ignition (SLI) products, stationary power systems for telecommunications and uninterruptible power supplies (UPS), and high-end motive power batteries. 
Stored Energy Holdings Inc. ("SEHI"), through its subsidiaries including Northeast Battery ("NEB") and Tri-State Battery ("TSB") has established itself as one of the nation's leading independent battery distributors, and is the largest in the northeastern U.S. Serving customers in nearly all 50 states but concentrated in 14, SEHI strives to be the dominant player in its markets. Focused on growth through both organic and acquisitive means to significantly and profitably increase its market share, SEHI also strives to provide its customers with the highest level of service in the industry, through the strength and quality of its team, its nationally recognized and sought-after brands, and through both operational efficiency and scale.