Demand in residential storage, solar home systems, and remote telecoms hasn't gone unnoticed by battery manufacturers. As more people become interested in and aware of renewable energy, we're in need of more engineered solutions.
Trojan Battery has recognized this need, and now offers the Solar AGM line of maintenance-free, true deep-cycle batteries. Here's what you need to know. (And here's how to get a quote.)
Trojan Battery Solar AGM Specs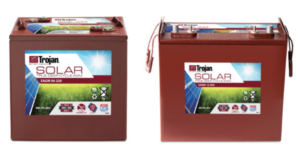 The new line is manufactured right here in the U.S.
Trojan Solar AGM batteries come with a three-year warranty
Batteries feature a non-spillable design (great because installers can customize the use and position of the batteries)
Certified non-hazardous shipping (per U.S. DOT/IATA regulations)
Best Uses
Trojan Solar AGM battery line is designed with these applications in mind:
off-grid and grid-tiered residential storage
microgrids
solar home systems
remote telecom
residential and commercial backup
Put simply, these batteries are optimized for solar applications and anything needing frequent cycling in harsh conditions/environments. Solar street signs and lights, off-grid cabins or tiny homes, and even oil & gas applications are great matches for Trojan Solar AGM.
Battery Life
What's great about this new Trojan deep-cycle battery is the attention to efficiency. Three key factors go into making the Solar AGM battery a high-efficiency energy solution:
temperature tolerance
shock and vibration resistance
low inter resistance (for higher discharge current)
This three-pronged approach is what helps make Trojan Solar AGM batteries ideal for harsh environments.
Don't forget: this new battery line incorporates many of the same winning elements typical of Trojan batteries. Elements like advanced plate design, premium separators for overall extended lifecycle, and a robust proprietary paste.
Did you know?
Trojan's Solar AGM line is the first release in a brand-new series of solar batteries. Trojan Battery plans on releasing more solar batteries in the coming months.
Want more detail on the product? You can find additional detail on the product here, or you can also get more information about these batteries by reaching out to our expert team.